Donald Harington: Wry Stories and Word Music from Unexpected Places
A review and commentary by Steve Reed (1996)
The hidden sounds of irony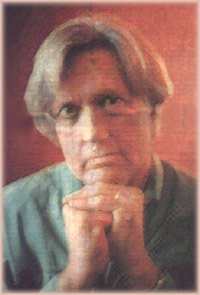 Donald Harington is an evocative and underrated novelist, an acclaimed professor of art history, and a master of the sounds of language on paper. But he also refuses to accept storytelling "realities" on their own terms, whether they're in what he depicts, or in what the mass reading public often demands. And this has made him one of the most joyfully subversive fiction artists of the past thirty years.
In nine books, including his new novel Butterfly Weed, Harington has created a world of sly humor, warm eroticism, and deep personal passions. He focuses on those who live and love in a verdant corner of the Arkansas Ozarks that he has dubbed "Stay More" — from the formal Ozark entreaty to departing guests.
Literalists would try to find this town, or the ghosts that may be left in it, within the more isolated hills of Newton County in northern Arkansas. Many fans have attempted to do so, being entranced by the tales he's told. (Never one to ignore a good tale, Harington included one such event as a spark to his single work of nonfiction.)
But Harington creates his own backwoods roads, even through the dictionary.
What is most distinctive about his work could be hidden, as he hints in more than one novel, in a choice between two words. Harington is not in any sense an "Arkansan," and can't stand to hear that word, although he's a native of Little Rock and has lived in the state for most of his life. Yet he always has seen himself, and with deep passion, as a genuine "Arkansawyer."
This is far from a trivial difference. The characters he creates and shapes don't take the realities of Arkansas life, or of what human beings do, at face value. They don't truly inhabit the state, or even this dimension, in the sense one might see within the word "Arkansan."
His wry hopes are brought out far better by the archaic word one can find within "Arkansawyer." Harington's characters — at times, including himself in the background — make their world over to what they desire with craft, determination, and clear hearts. They hew and shape the realities of a largely vanished woodland life, in the same patient way that a good "sawyer" once would shape wood to his own ends.
Much of Harington's shaping of words centers on their sounds, and the emotions that these may evoke. His pivotal tale Lightning Bug creates passion, longing, and wistful desire out of the sounds of a summer night — including, unexpectedly, the potent aural image of a writhing spring on a closing screen door.
Yet Donald Harington and his work repeatedly fall into ironies as deep as an Ozark "holler." This novelist who calls up rhythms of night creatures, and their parallels in the cadences of human voices, lost nearly all of his own hearing at the age of 12, in a meningitis outbreak. All of his word music thus comes from a keen memory and a love of language that's thrived despite this misfortune.
(He has since been able to cultivate a wide and well-quoted musical sensibility in his work — these days, from playing classical CDs jacked into his hearing aid at high volume.)
Harington's other vocation, art history, has brought him many awards for teaching excellence. And yet much of the spark for discussion in his classes has an atypical source: the questions and comments he patiently solicits from reticent students on three-by-five-inch note cards.
His novels show every variety of mature (and immature) adult sexual attraction, often in raucous and ribald words. Yet one of his strong passions in popular art, in recent years, is the finely wrought writing and acting of the recently canceled TV series "My So-Called Life." Its stories focused, by contrast, on the vagaries of teenagers' inner lives. And this interest is likely to add to the emotional depth of his next novel.
Still more ironies run through his fiction with the force of his town's Swains Creek. His central metaphor is that of a world-shaping storyteller, but some of his plots end up being told from several viewpoints at once. His women protagonists show a sense of deep knowledge about emotional realities, yet four of them end up (unwillingly) in public or private asylums. And many men and women are anxious to speak the truth about their emotional lives, yet such truth is ignored or devalued by those who are closest in their families.
Harington continually breaks up the expectations of readers who anticipate only one written style in a novel. His Some Other Place. The Right Place. tells an intricate, passionate story of unexpected love and inner renewal. Yet its vantage point shifts from a reporter's eye, to "journal" entries, to dozens of pages of poetry, and finally to the musings of a watchful and literate ghost.
All of this Rashomon-like shifting of perspective comes together to describe inner emotions in ways that a "realistic" novel wouldn't begin to attempt to do.
Passionate readers
Is such a deeply imaginative, irony-filled storytelling craft one that appeals to readers? It's difficult to say. Harington's novels have sold regularly, but far from spectacularly, for over 30 years. But even without a "best seller," his literary reputation was strong enough for his current publisher to have reprinted all four of his earlier, out-of-print novels.
Masters of wordcraft from William Styron to Peter Straub have found intricate virtues in how he shapes paradox-filled stories around well-defined characters.
Harington is not at all fashionably cynical, and doesn't reduce his characters to pat formulas. "The denizens of Stay More are larger than life," writes Jack Butler, a longtime Harington partisan and professor at the College of Santa Fe. "They are heroic in scale, which is not to say they are not flawed and venal. But their flaws and foibles and venality are vastly and comically illuminating."
Some potential readers may avoid the lives of Stay More because they appear to be closely tied to the quirks of a particular region. Do others who are too "fur off" not take a second glance at this "Arkansas novelist," despite his fictional casting of many universal human types?
This is the fear of Larry Vonalt, close friend of Harington and member of the English faculty at the University of Missouri at Rolla. "The big problem about Don's work is that a lot of people assume from the setting that it's hillbilly in the subject matter, and it isn't."
Such difficulty in breaking out of a "regional" reputation, however undeserved, has always been a reality. "Faulkner's publisher supported him much more strongly, yet he wasn't broadly popular until after his Nobel Prize, and after the French were taken with his work," notes Vonalt.
Not everyone sees Harington as being limited by his setting. "Don should be far better known by now to the literate public," says Richard Stern, novelist and professor of English at the University of Chicago. "He's a comic writer, a lyric writer, with a sense of place and setting that's extraordinary." Stern sees a deeply felt response to Harington's stories and style among fellow authors — "He's a writer's writer" — yet despairs of his breaking through to the country at large.
And for Stern, the Ozark setting of the Harington novels ends up being a virtue, tapping unknown strengths of thematic material. "He's done some permanent salvage work on a complex part of this country."
Harington hasn't made nearly as much impact as one might expect in his home state. Although he's reviewed books for the leading newspaper in Arkansas for many years, it hasn't helped his name recognition. He didn't receive any fan mail from Arkansas readers, from what he can remember, until he'd been a published author for 13 years.
When fans do discover Stay More, however, they are passionate about it. The author of his first local fan letter became so enamored of his work and life that she became, six years later, his wife. Since 1983, the former Kim Gunn McClish has been Harington's helpmate and partner in every way, including being his voice on the telephone with agents, editors, and publishers.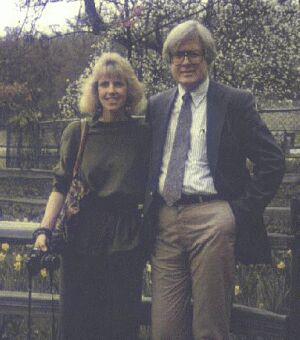 "When I first read Some Other Place., I thought I would die from the sheer wonder," Kim Harington recalls. She was then a high-school teacher in central Arkansas. "I began to try to find others who had read his novels, so that I could talk about them with someone who loved them too, but at that time and in that place, there was no one. So I began to create fans. All it took was the reading of one book.
"For a long while I had no vocabulary for speaking of his work; I stumbled and failed. Sometimes I shed tears in the telling of what I could. Now there is a difference. There are Harington fans, and they are intense."
This intensity about Harington's Newton County world bubbles up from unexpected corners. One visitor to the Jasper library was amused at patron Mary Lou Taylor's whimsical affectation in saying that she was "from" Stay More. (She lives in the "real" village of Parthenon, near Harington's venue.) As reported in the Arkansas Times, the visitor exclaimed to Taylor, "Honey, tell me where it is! I moved from back east two years ago to live in Stay More, and I haven't found it yet."
Subtle shading of imagination
Any courageous reader can "find" Stay More, and live within Harington's take on reality, by choosing among several tacks of his storytelling. His novels use inner narratives, allegories, explorations of art, tall tales, and chronicles filled with humor and sensuality. More than one such style ends up finding its way, with fluid connections and wordplay, through each novel.
Harington deliberately blurs sharp dividing lines of style, both in his daily work, as a professor at the University of Arkansas, and in his fiction. It's an escape from linear realities that he relishes.
"As an art historian," he says, "I always spend the first day of every class explaining my own definition of art: 'Art is an escape from "reality" that makes the return to "reality" somehow more magical, more understandable, or more bearable.'
"This definition applies even more to fictive art than to visual art. I learned from Vladimir Nabokov always to put 'reality' into quotation marks, because there isn't any such thing."
What can delight the attentive reader is how smoothly Harington can place several influences side by side in one narrative. He can reshape an unbearable reality directly alongside a clear, direct, and hopeful triumph over the fates, all the while using unexpected metaphors for the events of human life. Perhaps the finest example of this interweaving is The Choiring of the Trees, a novel that is only superficially "realistic."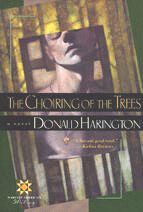 Choiring, set in 1915, describes an innocent man who is framed for a rape and condemned to die, after running foul of rough and partisan backwoods bosses. He suffers brutal treatment in the state penitentiary. A newspaper woman who sketches him at his intended execution sees a spark of true feeling within him.
The artist, sensitive to emotional realities, is moved to uncover the facts about the prisoner's innocence, and gradually falls in love both with him and with the virtues of his fellow "Stay Morons." (This is Harington's affectionate term for his villagers.) She redeems the young man's trampled spirit, and he eventually escapes his fate. They find a new world of color and life in the Ozarks that brings peace to her own troubled soul.
This novel is loosely inspired by a genuine miscarriage of justice, and includes several historical Arkansas figures. On the surface, one could see Harington's recasting of events in a similar pattern as that used by Thomas Keneally in his novel-of-history, Schindler's List. Yet even that use of imaginative re-creation of detail is less bold than what Harington does in his own story.
The artist who saves Harington's hero recasts every distinction, first of light and shadow, and then of moral choices, in metaphors of "shades of green." These signs of life and color are all created in the reader's eye by sharply black-and-white tools: one-color drawing pencils, interplays of angry words, or resisting the wanton violence of those hiding the truth about political corruption.
Harington evokes the colors of life through images of non-color. This sense of art and creativity reshapes the stark and brutal events of the story into personal triumphs. At the end, the young Stay Moron who has been the narrator both finds herself in love with the story she has been telling in passionate detail, and finds a way to enter the woman artist's world of greenery in her own spirit.
The narrator — Latha Bourne, a "demigoddess" of Harington's world who appears in every novel — brings the reader into the picture as well, through subtle verbal shifts. She tells the triumphant conclusion of the story with matter-of-fact humor, and in the present tense. When she describes the heroes' fortunes and legacy, she turns the heroine's art into an eternal and perfect truth, and she shifts to the future tense.
This unique and elegant use of verb tense is Harington's tool to end all of his novels — or to avoid a true ending. "I hate endings," he readily admits. His sliding into future tense "is specifically designed to help prevent the book from ending, because anything in the future tense does not end."
Such a verbal shading of time leaves his town wide open to contain more stories, observations, and characters. Stay More tales have jumped from decade to decade as Harington has written them, from the 1840s to the 1980s to the 1910s. Sometimes these shifts are made within a single book.
To tie his fictional world so closely to a particular well-imagined locale creates a bit of a paradox. It frees up Harington from being as restrictive in what he writes, in both style and subject as well as in time frame.
"I have seized upon Stay More and made it my 'own little postage stamp of earth,' as Faulkner said of his Yoknapatawpha County — although his embellishments strike me as a kind of unreality too self-consciously distorted to be escaped into," says Harington of this focus.
"It narrows down, as much as possible, the physical setting of my mythical world. By confining it, by limiting the furniture of the stage, I paradoxically leave unlimited the imagination of the key character in each of my stories: the reader. If there is a single ambition that motivates my work, it is to make the reader part of the story."
Harington is modest about how well he's succeeded in opening up so intimate a stage amid the tangy blue Ozark air. Even after eight novels, "I'm still the primitive of my esthetic, as Cezanne said. It's only been imperfectly realized at this early stage."
Furniture of the mind's stage
Much of the historical furniture of the Stay More theater is outlined in a subtly comic chronicle, The Architecture of the Arkansas Ozarks. Told over 140 years, this is a multi-generational tale of the Ingledew brothers, their progeny, and the rhythms of their inner life.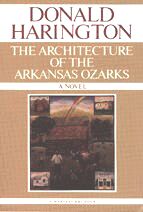 The Ingledews, all outsized characters, shape their town's life in every detail, shown most strongly in the unconscious design of its buildings (illustrated by Harington). They even determine local units of measure: A "hat" comes from "the distance that Jacob Ingledew could toss his coonskin headgear, approximately 16.5 feet." Buildings, their number of doors and their unseen purposes, reflect the vagaries of emotional life for couples of every description — and for loners, with one large house that's built in a tree.
To organize a fictional history through changes in architecture is an unusual tack for any novelist. But the reader who persists with Harington's metaphors about how we shelter our lives will find sly truth about his characters, and about how human desire shapes the world one lives in — both indoors and out.
And Harington's own emphases can break completely out of the narrative itself. His own more central point ends up finding an elegant self-expression in an afterword that outlines his historical research: "Most of these structures no longer stand, but that fact makes them no less 'real.' They stood, and that is, like all of us, what matters."
Other works set in Stay More center on well-told details of single characters. Latha Bourne, and the emotions and secrets that surround her life, are brought into the thick of Lightning Bug in almost a stream of consciousness. Vivid dreams, some when Latha is asleep and many more while she's awake, break through a story of how she confronts her past on one dusty summer day in 1939.
The life of a sensuous and perceptive woman ends up being told through night sounds, memoirs of a boy who adores her, and suspenseful flashbacks. All of these devices make a triumphant, comical end run around any notion of a straightforward narrative.
Harington's most recent novel, Ekaterina, pays explicit homage to his reshaping of "reality" and to Nabokov. His heroine, Kat, literally escapes from an unbearable reality, that of a Soviet psychiatric hospital. She makes emotional repairs in coming to America, where a novelist/professor from the "Bodarks" (a thinly disguised cameo of Harington) encourages her to write about her experiences. She's exhorted to find her inner resources of "exaggeration and outrage."
Kat is inspired toward material solace by visiting and writing in Stay More, and soon finds an outsized commercial success. In an allusion to Lolita's Humbert Humbert, she also tries to find her inner solace in the quite willing favors of young boys. But the life of her spirit finds its freedom, despite opponents that no one suspects are lurking around her — including hostile and gun-toting interviewers, no less.
Still other characters travel to Stay More as a refuge, or to understand some of the subtle flavor of reality — usually that of love. This becomes true for the young couple that finds hidden wisdom in tracing the convoluted life of an ancestor, in Harington's lyrical narrative Some Other Place. The Right Place.
That this ghostly figure appears in the story, first through reincarnation and then in his telling the tale himself through poetry, gives both comic and melancholy twists to their efforts at understanding. Expectations of reality may be bent out of shape in their lives, and in their new-found yet dying town, but they don't prevent a triumph of spirit and self-awareness from taking place.
A remarkable parallel to this couple's discoveries of the spirit, but embodied in travels through the "real" Arkansas, may be found in Harington's nonfictional Let Us Build Us a City. He describes perceptive, history-laden visits to eleven dying "City"-named towns, along with a fanciful recasting of his first encounters with wife-to-be Kim. It becomes a subtle elegy for lost small-town growth hopes, vanished local color, and the persistence of failed dreams.
Harington dips into allegory, and almost dispenses with any human characters, by describing the run-down later days of his town. The animals who inherit its ruins, and worship Man, tell the present-day tale of The Cockroaches of Stay More. These insect denizens have adopted the names and personalities of the human families who have long departed. Their foibles and personal epiphanies bring to the reader a sense of the timeless nature of love, longing, and passion.
This sensitive and unconventional story was dedicated to Harington's grown daughters and stepson, and became a bedtime tale that he never told — nor that anyone would expect. And yet, like the best children's tales, it can disturb the sensibilities of adults much more. Doom, for the roaches, is rung out in a deep bell that's almost beyond their power of hearing — as other bells of truth, about the transience of love, may be for human readers.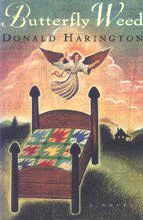 Butterfly Weed, the new Harington novel, makes another productive and unusual twist on storytelling structure, for it's a twice-told tall tale. Doc Swain, Stay More's legendary and amazing physician, spins his story of the love of his life to the quite "real" Ozark folklorist Vance Randolph. In his twilight years, the bedridden Randolph tells the story — laced with detail that Swain never could have witnessed — to Harington himself.
In weaving through such stories, the reader has several linked tales to follow. It becomes a mutual effort of discovery with the novelist.
And a larger irony stands behind all of the novel's stories: The "real" Harington and Randolph did in fact meet, before the latter's death, yet the folklorist was too weak to tell any such tale, and the novelist too hard of hearing to understand it. The emotional truth of the story goes beyond even the "real" truths of the lives of the two storytellers. Or three, if one counts the reader, who's persuaded that kindly spirits never stop telling the best tales, on any plane of "reality."
Prospects for a storyteller's craft
All of this rich variety of style and substance is far from being easily packaged in glossy commercial trappings.
Harington is, moreover, far from a detached academic or a dilettante author. He asks for, almost demands, the thoughts of readers in helping to create his world. He even reworks his story structure to take in the cacophony of human interactions, and further absorb a reader's attention.
Is this a challenge that the mass reading public will ever take up? Jack Butler, who's avidly watched Harington's career, is doubtful. "Don is just writing beautiful stories, having fun with manipulating reality and imagination. But that's not marketable in pop fiction." Butler sees far too much fiction of the past three decades being "dominated by a political agenda — but Don just doesn't have an agenda."
None, that is, beyond creating vivid characters that become special and admirable through their inner virtues. This sensibility is not in fashion.
As Butler wrote in the Chicago Review:
Human hopes are often frustrated in his stories. ... Nevertheless, the stories themselves are beautifully passionate, and the main characters endearing and fascinating.

This, for my money, is one mark of a great writer. Any scamp with talent can render the nastiness of humankind. It takes a master to make courage, honesty, and decency visible — and not only visible, but believable.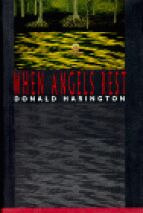 To borrow from his timeless use of future tense: Donald Harington will keep on excavating these virtues from the earth of Stay More. His next novel, When Angels Rest, will show the life of the town as it will be dominated by its children during World War II, with all of the adults absent or preoccupied. A small but strong home-front conflict will be mined for both victories and tragedies.
A host of new readers, when they open their fictional expectations to the joyful tall tales of Butterfly Weed, will soon gladly become new Stay Morons, and with deep and thoughtful pleasure. They will find the richness of how this subtle word artist reworks one's expectations of "reality," in far more robust and appealing ways than will be found in any simple fantasy.
For Further Exploration
If this essay-review has you intrigued about Donald Harington's art, you might enjoy the following:
The latest Harington novel, published since this review was written, is When Angels Rest, a chapter from which you can read online.
Sample the first five chapters of Ekaterina at the Zembla Website, devoted to the works of Nabokov and their resonances elsewhere.
Order the issue of the Chicago Review (Vol. 38, No. 4) that includes extensive commentaries on and celebrations of Harington's works.
All of Donald Harington's books are available in print. Unless noted below, these are trade paperback editions and are published by Harcourt Brace.