Victor Hugo FanSpace
Victor Hugo — poet, novelist, playwright, essayist, watercolorist — bestrode nineteenth-century culture like a colossus. Since his art seems quite in line with our goals here at the Monadnock Review, we've gathered together the resources listed below. And don't forget that the 200th anniversary of Hugo's birth will occur on 26 February 2002!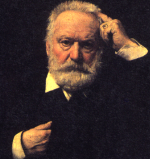 Quotes and Online Texts
Special update: an appeal for translations.